My Top Ten X-Family Stories
Originally posted on Beyond The Gamer:
In honour of the 50 Greatest X-Men Stories (and the 50th anniversary of the X-Men), Comic Book Resources is doing a countdown of the 50 Greatest X-Family Stories. As before, I voted for my top 10, and here they are. First, from 10-6, and next week, the top 5. Be warned: There is a lot of X-Factor on here.
10. Pryde & Wisdom: This three-issue mini from 1996 was written by Warren Ellis. Terry Dodson did pencils for all three issues, along with Karl Story for #1 and Aaron Lopresti for #2 and 3. Warren Ellis, at the time, was nearing the end of his excellent run on Excalibur (his last issue of Excalibur came out the same month as part 3 of this series). The story follows Kitty Pryde and Pete Wisdom investigating a rash of mysterious deaths. This was after they'd broken up, but they still work well together. We get to meet some of Pete's insane family, and they're great. The killer turns out to be a religious nut who believes himself to be Cain – as in the Biblical Cain – trying to ask forgiveness from god for killing Abel. Kitty and Pete track him down, dealing with all sorts of other intrigues and craziness, and insulting each other constantly. They always had a surprisingly good chemistry – they were equals for each other. They were both highly intelligent, and they both had a very sharp, sarcastic wit. They both gave as good as they got. Kitty's cheerful optimism played well off Pete's grumpy cynicism. The story itself was really fun; the killer was interesting, the intrigues were amusing, and the art was pretty good for 1996. This was still relatively early in Dodson's career (about 5 years in or so), so he was still developing. He's refined his style over the past 15 years, but most of the elements were there. He just needed to tighten it up a bit.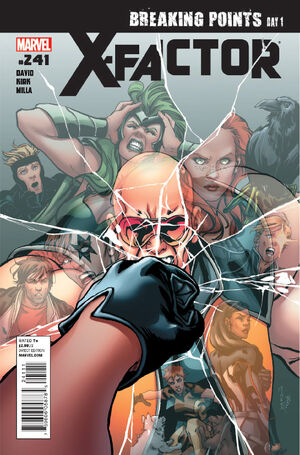 9. Breaking Points (X-Factor #241-245): "Five days that will change X-Factor forever." That's the subtitle to this arc. It's written by Peter David, with pencils by Leonard Kirk. Day One has the now-soulless Guido quit X-Factor when Monet rejects him. Day Two has Darwin nearly kill Rahne's son, Tier, before he's stopped and Rahne is reunited with Tier. Day Three shows how Lorna's parents died, and ends with her catatonic. Day Four has Siryn take over as the Morrigan, from Irish mythology, to heal Lorna. And Day Five has Alex leave, and Madrox and Layla decide to go get married. These five issues were something of an emotional roller-coaster. Most of the issues were roller-coasters on their own, actually. Tragedy and triumph. Numerous people leave the team, and the rest have to keep dealing with the fallout from one thing after another. It's full of Peter David's normal sharp dialogue as he explores the mental states of all the characters, and their relationships to each other. He was clearly setting up some big things down the line, but he resolved a few things, as well. Most notably, PAD resolved all the confusion about Lorna's parentage, giving us what I suspect will be her definitive origin. That issue also happens to be probably the most emotional of the arc, which is saying something. Kirk's pencils were . . . adequate, I suppose.